---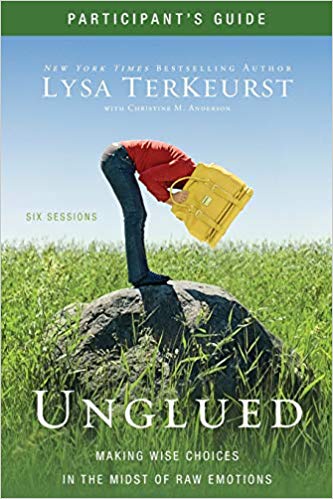 Unglued (study guide) - Lysa Terkeurst
---
GOD GAVE US EMOTIONS TO EXPERIENCE LIFE, NOT DESTROY IT!
Though she passionately loves Jesus and her family, New York Times bestselling author Lysa TerKeurst admits that she has spent her life trying to keep her raw emotions in check. All women experience these "unglued feelings" at times, often when they least expect it. These emotions are not wrong; in fact, they are God-given. However, God gave us emotions to experience life, not destroy it! Each reaction we have is an opportunity to either fall back into patterns that make us wallow in guilt or choose more wisely and make progress.
Filled with personal examples and biblical teaching, Unglued will equip you to:
Know with confidence how to resolve conflict in your important relationships.
Find peace in your most difficult relationships as you learn to be honest but kind when offended.
Identify what type of reactor you are and how to significantly improve your communication.
Repond with no regrets by managing your tendencies to stuff or explode.
Gain a deep sense of calm by responding to situations out of your control without acting out of control.
 
The participant's guide, designed for use with the Unglued DVD, provides individual and group activities, between-session personal studies, quotes, assessments, and additional material that will enhance your experience of the video sessions.
SIX SESSIONS:
Grace for the Unglued
Freedom for the Unglued
Four Kinds of Unglued
A Procedure Manual for the Unglued
Lingering Words for the Unglued
Imperfect Progress for the Unglued
NOTE: Study guide only; DVD not included.