---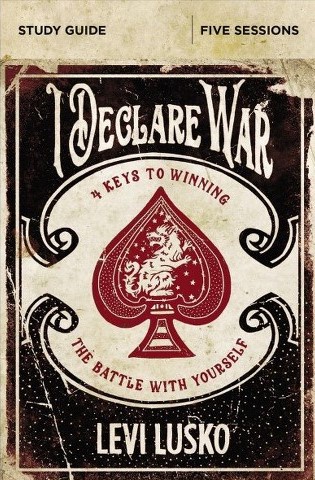 I Declare War (study guide) - Levi Lusko
---
Win the war within
Whether you recognise it or not, you're at war with yourself. There's anxiety. Selfishness. Self-sabotaging tendencies. Narcissism. The black dog of depression. There is a war raging within you. But all is not lost. Youc an win... if you choose to engage.
In this five-session video Bible study, Levi Lusko shows you how you can fight this battle by declaring war on your thoughts, your words, and your actions. Levi candidly shares about his struggles with moodiness, bullying, suicidal thoughts, and night terrors to show how you - with the help of the Holy Spirit - can achieve victory by...
- filling your heart with truth and making it inhospitable to anxiety
- overcoming bad behaviours to claim the victory God has for you
- learning to think right so you can live right.
It's time to stop being your own worst enemy. It's time to declare war and become the person, the spouse, the parent, and the leader whom God intended you to be.
The I Declare War Study Guide includes video teaching notes, discussion questions, Bible exploration, and weekly personal study and reflection materials.
NOTE: study guide only; DVD not included.