---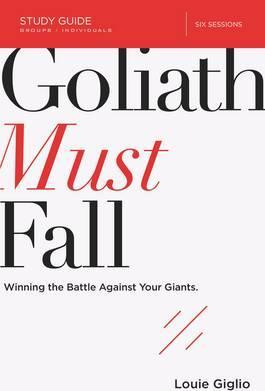 Goliath Must Fall (study guide) - Louie Giglio
---
It's Not the Height of the Giant... but the Size of our God
It's likely you have a giant in your life... an adversary that's diminishing your ability to live a full life. Frozen in the grip of rejection, fear, anger, comfort, or addiction, you've lost sight of God's promise for you and have settled for less than his best. He has a better plan for you - a plan for you to live in victory. That's why he silenced your giant once and for all.
In this six-session video Bible study, Pastor Louie Giglio uncovers a new-found twist in the story of David and Goliath. He shows how living free from our giants is not better slingshot accuracy but keeping our eyes on the only giant-slayer: Jesus. Put your hope in him, and watch Goliath fall.
The Goliath Must Fall Study Guide includes group discussion questions and activities, Bible exploration, and personal study and reflection materials for inbetween sessions.
Sessions include:
Dead But Still Deadly
Fear Must Fall
Rejection Must Fall
Comfort Must Fall
Anger Must Fall
Addiction Must Fall
NOTE: study guide only; DVD not included.