---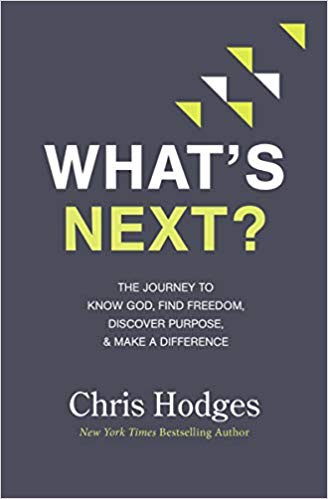 What's Next? - Chris Hodges
---
A deeper and more intimate relationship with God is closer than you think.
Have you ever felt as if something were missing from your life? Are you longing for a clearer sense of purpose? Do you feel stuck in a spiritual rut? In What's Next?, bestselling author Chris Hodges offers a practical guide for all those looking for clarity and direction and reveals the four steps to spiritual maturity:
know God,
find freedom,
discover purpose, and
make a difference.
He demonstrates how each step is part of both a linear path and a cycle leading to deeper levels of faith. Accessible and clear, concise and profound, no matter where you are in your journey, What's Next? is the guide you need to find your way and discover the joy that comes while walking the road of richer faith.
"Whether you are new in your faith or a seasoned Christian, Pastor Chris Hodges's new book is for you. It will give you the practical steps, the inward motivation, and the spiritual push you need to move forward, grow stronger in your faith, and do more to glorify God." - Craig Groeschel, pastor of Life.Church and New York Times bestselling author
Chris Hodges is the founding and senior pastor of Church of the Highlands. Since it began in 2001, Highlands has grown to have campuses across the state of Alabama, and we're known for our life-giving culture and focus on leading people to an intimate relationship with God.
Pastor Chris has a deep passion for developing leaders and planting life-giving churches. He co-founded ARC (Association of Related Churches) in 2001, which has launched hundreds of churches across the United States. He also founded Grow, specialising in training and resourcing pastors and churches to help them break barriers and reach their growth potential. Chris is also the founder and Chancellor of Highlands College, a ministry training school that trains and launches students into full-time ministry careers.
Chris and his wife Tammy have five children and live in Birmingham, Alabama, where Church of the Highlands began. He speaks at conferences worldwide and is the author of Fresh Air, Four Cups, The Daniel Dilemma, and What's Next?