---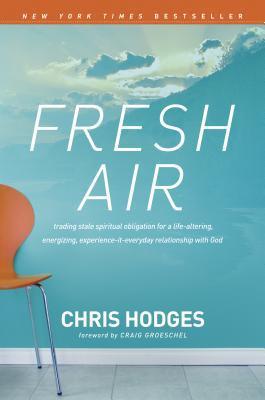 Fresh Air (paperback) - Chris Hodges
---
FRESH AIR IS ABOUT TO SWEEP INTO YOUR LIFE
This powerful debut book from Chris Hodges will revive your spirit and show you how to be fueled by God like never before. Take a deep breath of fresh air... and experience what it means to live an "I get to" - not an "I've got to" - kind of life every day.
"Chris Hodges is being used by God in our generation to bring new insights and leadership to the church. Discover the powerful secrets of a God-breathed life and enjoy the fresh air of God's blessing."
STEVEN FURTICK - Lead Pastor, Elevation Church, Author of "Sun Stand Still" and The New York Times Bestseller "Greater"
"Fresh Air explains how to experience a freshness in your life and relationship with God that you may not have realized was possible. Instead of a list of Christian how-to's or quick fixes, it takes readers inward, leading them on a spiritual journey of transformation from the inside out. Chris's personal experiences and humorous anecdotes makes this book an engaging read. I recommend it!"
JOHN C. MAXWELL - Leadership expert, author and speaker
"I love this book! Fresh Air will help you escape the mundane treadmill of living by empty rules and striving for empty success. With authenticity and clarity, Chris points us to the person who makes life fun again: Jesus."
JUDAH SMITH - Lead Pastor, The City Church
Chris Hodges is the senior pastor of Church of the Highlands in Birmingham, Alabama. Under his leadership, Church of the Highlands has grown to become one of the largest and fastest-growing churches in the nation, offering multiple services each weekend at a variety of sites. He cofounded the Association of Related Churches (ARC) in 2001, which has planted hundreds of churches all across the United States, and he serves on the board of directors of EQUIP, a nonprofit ministry founded by John Maxwell. Chris and his wife, Tammy, have five children.